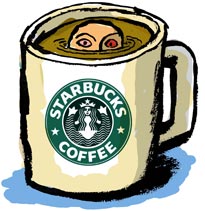 Hangin' with me a fun way to spend your day?

Man am I tired today! I had to be up at 6:30 am in order to get my soon to be stepsister to the dentist to have her wisdom teeth taken out. Yikes! I thought she would be tired, but turns out she was in good spirits, but wanted to hang with me instead of going home to an empty house. It was a nice experience. We chatted and watched movies. It was nice getting to know my step sis better. She's a good "kid". She and I also decided to be shopping buddies next time one of us needs to do some power shopping:)Hanging with my stepsis aside, this week has been a real zinger. I am finding that I may not be so much of a stress eater as a stress drinker. Starbucks. Hazelnut latte. Mocha. Vanilla latte. mmmmmmmmmmmmmmmm. yummmmmmmmmmmmm. The good thing about Starbucks being a "stress buster" is that there is not one for about 5miles of my house and it isn't on my route to many places. So my stress buster is still in moderation. My stressful week has only equaled 2 lattes. Where as if I was an at home stress eater this could spell trouble. Thank you Starbucks for your crack laden drinks and the fact that your not currently convenient for me to get to!
I am going to log off now. Scrubs is do on soon. They brought it back, finally. Such a smartly written wacky comedy. Enjoy your evenings.